DISCOVER YOUR SOULS BLUEPRINTS
Wake up each day with clear direction. Cultivate a knowing you are on the right path.
ATTRACT MORE OF YOUR DESIRES
Discover science-backed strategies to become a magnet for more of what you desire.
DISCOVER YOUR BLOCKING STRATEGIES
Figure out exactly what has been holding you back from your breakthrough. Gain tools to move beyond and finally break-free
OPEN UP THE DAM OF ABUNDANCE
42 practical exercises to shift your energy. Begin to flow in the goodness that is waiting for your in escrow!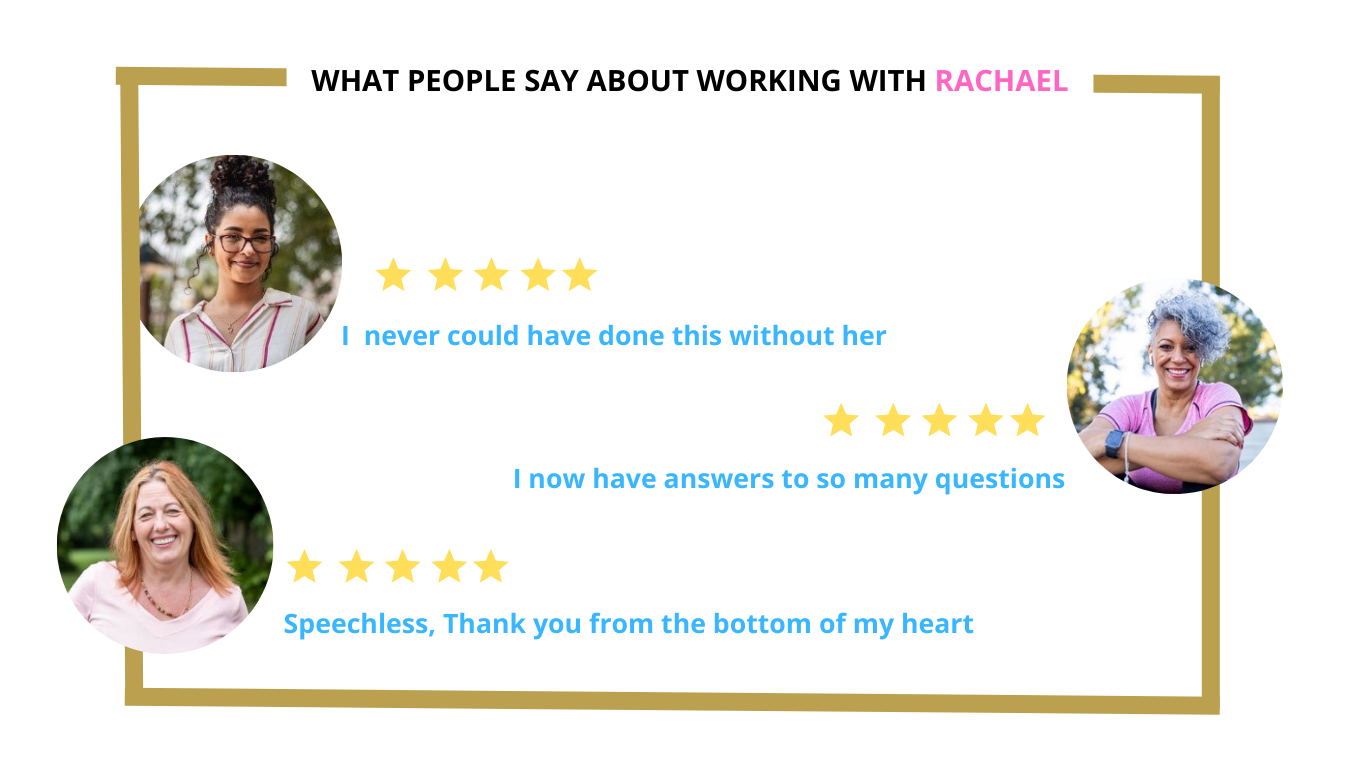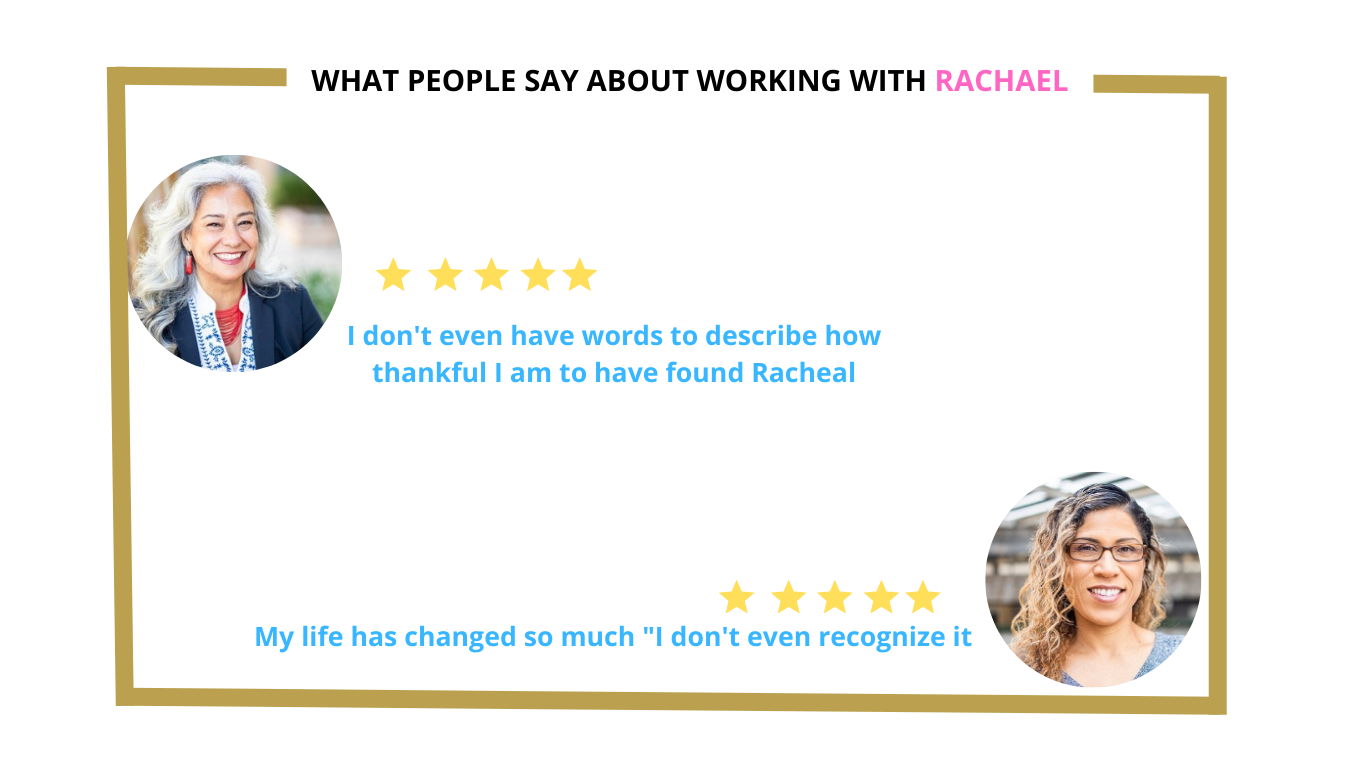 Hello Loves, my name is Rachael Poffenroth, I am a Self-Wealth Expert and I help clients IGNITE their existence, and CONNECT to their inner spark, so they can radiate joy and ACTIVATE their MIRACLE MINDSET.




Because when you are in FLOW, you GLOW! And who doesn't want a little more glow and a whole lot more MAGIC and MIRACLES, right?

What does Oprah, Elon Musk, Bill Gates, Albert Einstein, Nikola Tesla, and Richard Branson all have in common? The have connected to their genetically-coded inner genius. Its not because they are exceptionally gifted or have a higher-than-average IQ. No, its because they knew how to tap into their GREATNESS CODING. You see, I also know my GENIUS. I know my PURPOSE.

My calling is to be a lighthouse, a beacon of light, calling people back home to the truth of who they are so they can finally enjoy all aspects of the human experience, by UNLEARNING STRUGGLE and connecting with what sets their SOUL FREE and lights their HEART ON FIRE.

After 2.5 decades of studying and becoming certified in Eastern Medicine, Medical Intuition, Past Life Regression Therapy, and Quantum Mechanics, I'm now on a mission to re-invent mental health and inspire 1 million people by 2025 with simple tools and practical steps to help them create the life they DESIRE and DESERVE.

You aren't here to be a caterpillar dragging your body along the ground, having to crawl yourself over obstacles, subjected a limited perspective of the world. No, my love you are here to be the BUTTERFLY, who can fly from one point to the next EFFORTLESSLY, who can see things from a HIGHER PERSPECTIVE and who loves to fan its beautiful wings, saying look at my MAGNIFICENCE. I've laid out an easy-to-follow plan for you and I'll guide you every step of the way. All you have to do is show up.

Here's my promise: By the end of these 42 days, you'll have clarity about your purpose, you will have expanded your capacity to receive, you will confidently know how to make intuitive decisions, and you will have the tools to attract your desires.
IF THIS SOUND FAMILIAR TO YOU THEN YOU ARE IN THE RIGHT PLACE ...
You Feel Overwhelmed with all the Law of Attraction Tactics.

This Miracle Mastery Course will offer you a sense of profound clarity and freedom as each week builds systematically on the last. You'll no longer have anxiety, wondering if you are "doing it right". You will learn the science behind each process and how to know You'll confidently trust each day and step-by-step process is guiding you to more creative solutions so you can see beyond the obstacles and access higher levels of awareness.
You Are Unclear About Your Life's Purpose And Why It's Even Important
When you know your Life-Purpose; what makes your Soul sing and lights your Heart on fire, you will wake up each day energized, full of vitality and confidence you are on the right path. Can you imagine what that would be like to no longer wonder, or be afraid you are heading in the wrong direction? You will be able to distinguish what opportunities are for you and which ones are not. You will have clarity and confidence about each decision you make, and courage for each step you take. Above all you will feel fully aligned, supported and in flow with Universal Power.
You Don't Know How To Access Your Intuition
Maybe you've heard about the benefits of using your Intuitive Senses for years, but every time you try it, it never seems to "work." Its not a gift or talent. Everyone has access to this essential light-language. In this course, I'll clearly explain different ways to play with your intuition, and what has been blocking the signals for so long.—Most importantly, you'll learn your unique intuitive language through 7 different experiential practices.
You've Done Other Courses Before And You Are'nt Sure This Will Be Different
This course is designed to work for you on multiple fronts. Most courses only offer a singular focused outcome. However, this course is designed to help you become a Miracle Master, so are many aspects necessary to learn along the way. It is designed similar to school with 7 levels of progression. Each week opens up new levels of awareness about yourself, what is holding you back, how to break through and what messages the Universe has been trying to send you, but you have been blocking. Upon completion, you will see the world with completely different eyes, and you will have no doubt you are capable of accomplishing all you desire.
42 Daily Lessons
As soon as you sign up you will receive immediate access to get started. You'll be able to access a new lesson from me every day, once the previous one is completed.
However, for maximum benefit, only 1 lesson per day is available to ensure each step is fully integrated into your cellular memory before moving on to the next. Each lesson, method and practice will help you build a strong foundation to be able to activate and receive the miracles you desire.
Different Styles Of Learning

Throughout the 42 days, I'll teach you a variety of step-by-step practices to help you to unlearn struggle and self-doubt,
and to become the powerful creator of your life you were born to be. You might be surprised by what you love most!
Exclusive Member Platform

Inside your portal you'll find all the lessons, mind journeys, EFT sessions, intuitive trainings, and life purpose discovery tracks, along with a downloadable calendar to track your progress. Plus, I will be live in the Facebook group every Tuesday for our Power Hour calls. Which means you also get 7 live Q & A calls with me.
Optimal Results Porrtal
You will find the self-empowering habits you establish, the intuitive skills you develop, and your Personal Purpose and Value Board you create for yourself, will culminate to help you to know your path with absolute clarity. You will be surprised how easy it is to make the best decisions which will create the life you desire and deserve. It will feel like you have just walked through a portal into a whole new world.
Accountability And Commitment
I've created a 42-day plan to help you to stay consistent on your path. With my guidance, and the course outline, it will feel effortless to hold yourself accountable and committed to your Miracle Mastery Journey. You will be intrigued to see what new awareness's and skills you get to learn each new day. Plus, you will be creating a new up-levelled version of you in the process, it doesn't get any better than that!
Community Support
Join an exclusive Facebook group of people who are committed to the Meditation Challenge. Together, each and every member of the community will keep the momentum strong by providing encouragement, sharing breakthroughs and offering tips. You'll have access to the Facebook group for free for the 7 weeks you are registered in the course, plus a Bonus 2 Weeks for any catch up.
Think of this course as you going through your personal metamorphosis. The average caterpillar takes 21-40 days, depending on the specie to turn into a butterfly.
This is a powerfully significant numbers for times of life-changing transformation. times. This course is a complete mental, emotion, and spiritual overhaul, with 42-days packed full of new awareness's and tools to help you to become the most radiant butterfly you were born to be.
I can't wait to see you in all your glory, flapping your wings, flying above the obstacles and dilemmas that have so many distracted and consumed. You were born to be limitless, to be magnificent, and most importantly to be free. There is so much Magic and Miracles waiting for you, but first you need to find your wings.
THE "YOU'VE GOT MIRACLES" COURSE
IS PERFECT FOR YOU IF YOU'RE READY TO…
UNLEARN STRUGGLE AND SELF DOUBT
With the help of my structured teachings, you'll discover how to unlearn Struggle and transform Self-Doubt!
ACCESS INTUITIVE GUIDANCE
If you're not already able to clearly hear Intuitive Guidance, this course will give you the step-by-step directions you need to feel confident! You'll love it so much that you'll keep coming back for more
.
You'll be amazed at how energized it feels when you realize you have the power within you to be the creator or your life. When you feel good, you attract high vibe people, create inspired ideas and so much more!
When you begin to put these practices to work in your life, you will see the "glass ceiling" shatter as your spiritual connection deepens. It will become something you align with daily to guide you to the best decisions, and most advanced insights.
When you realize how much value your individual uniqueness holds, you won't want to hide in the shadows anymore. Go from being an introvert to flowing in your purpose. You will experience an internal motivation to become creative, expressive, and say a confident "hell ya" to your biggest visions.
TURN OBSTACLES TO OPPOTUNITIES
When you realize that every "obstacle" is another opportunity for a Miracle, your immediate reaction to obstacles changes. You'll no longer focus on
FREQUENTLY ASKED QUESTIONS
How Does The "You've Got Miracle" Course Work?
You'll receive a new lesson from me every day. I'll guide you step-by-step through each lesson and exercise. You'll have a login for an online portal containing the daily practice. You'll need between 30-60 minutes to complete each lesson and exercise.

You can also join the private Facebook community to connect with me and other Miracle Makers, too. You'll have access to the content in the portal for the full 7 weeks,

Plus a BONUS 2 weeks for catch up—giving you plenty of time to complete the challenge if you need a few extra days. If you miss a day, don't sweat it! You can pick up where you left off and catch up fast.
What If I Don't Complete The Course in 42 days? How Long Do I Have Access?
Following the 42 days of the course, you'll have a Bonus 14 days of access to the content in the portal from the day after you signed up.

You'll also continue to have access to the private Facebook group until you 9 weeks has commenced. Creating a new habit takes accountability and commitment. I've created this 42-day program for you to stay consistent and motivated on your path.

Consistency is key! Please note that you will no longer have access to the course after the 9 weeks, unless you are a Miracle Member. All Miracle Members receive ongoing access to their portal for The "You've Got Miracles" Course.
I Don't Use Facebook. Is It Required To Take The Course?
The 42 lessons will be delivered in the online portal on rachaelpoffenroth.com so you can take the challenge without joining the private Facebook group.

Each video is delivered as audio or video format, so you'll have my high vibe, supportive energy guiding you every step of the way. However, all of the interaction with other challenge participants, and the live Power Hour and Q & A's will take place in the Facebook group and I may also supplement the core lessons with posts.

It really depends on your preference: Some people love interacting with other participants on the Facebook group, while others prefer to keep it simple and just stick to having me guiding them daily.
Is The "You've Got Miracles" Course Right For Me If I'm Beginning My Spiritual Journey?
Yes! The "You've Got Miracles" Course is for all levels, even Spiritual newbies. It is designed to establish the fundamental basics, which even advanced Spirituals will be able to benefit from, and move through 7 levels of awareness, insights and Practices. I will guide you every step of the way.
I've Tried Other "Manifesting" and/or Spiritual Courses Before And It Hasn't Worked For Me. What Makes This Different?
I have been divinely guided to create this course with the highest information available at this time. When you participate in the guidance provided over the 42-days you'll access a portal into a whole new world. You will be able to walk over the threshold into your Land of Plenty, as you Unlearn Conditioned Struggle and Self-doubt, Discover your Inner Genius, and Activate your Intuitive Powers. Just press play and I'll guide you every step of the way.
Created with